Reliable Pest Control in Warren NJ
Everyone in Somerset County can agree that finding carpenter ants, mice, or any other crawly thing inside your home is unsettling. Protex is here to effectively remove any insect, wild animal, or rodent to avoid any or further structural damage. Our custom pest control plans extend to commercial properties. We offer one time, monthly, semi-annual, and annual treatments depending on what your specific environment needs. See for yourself why most of our new business comes from referrals.
Tackling Termites in Warren, NJ
Termites can cause significant damage to the structural integrity of your home, so it's vital to catch and control them as soon as possible. When you call Protex for termite control, you can rest assured that we will thoroughly inspect your home and treat it promptly. If we find any termite damage, our technician will inform you of the findings with a written report and provide you with an estimate upon request. Don't let termites threaten your home in Warren, NJ - call Protex today to find out more!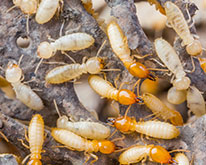 Rodent Control
Rodents such as rats and mice are a nuisance, can cause damage to your property, and transmit diseases. If you have a rodent problem that requires professional rodent control, the team at Protext will inspect your home and seal all entry points with our rodent control services.
Exterminators in Warren, NJ
Want a better idea of what control methods are used for your particular rodent, insect, or bat problem? Contact our exterminators in Warren, NJ, to learn more!